Thursday, February 8, 2024 – 7:00p.m.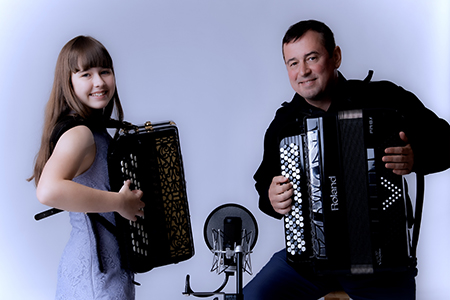 "The accordion needs more ambassadors like Maria & Sergei Teleshev!"
– Pamela Tom, Accordion USA
Maria: 2021 Prodigy of the Year
Sergei: Winner of the National V-Accordions Competition
Live On Stage veteran Sergei Teleshev is joined onstage by his daughter, accordion protégé Maria Teleshev, in their brand new show "Duo Two Accordions." Both multi-international award-winning accordion champions, their program features their iconic fiery accordion playing and vocals in a variety of styles, including classical, tango, jazz, and pop. The father-daugther duo also pays tribute to their heritage by featuring a selection of Ukrainian folk songs.